EIA & Soils
Delivering understanding of soils, the environment and farming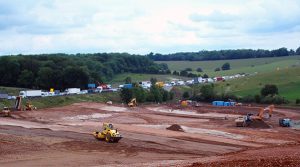 RAC is regularly instructed by major engineering and environmental businesses, large house builders and other developers to contribute to Environmental Impact Assessments (EIAs) of developments of all scales and types on agricultural and rural resources; including Agricultural Land Classification (ALC) and soil resource surveys, and land capability (Scotland) surveys. The types of projects in which we are involved include:
Infrastructure (roads, railways, ports and airports)
Housing developments
Mineral extraction
Energy projects (nuclear, solar, wind, anaerobic digestion)
Waste management
Leisure and tourism developments
Green infrastructure and habitat creation
Our experience of working with government bodies on numerous infrastructure schemes such as High Speed 2 has seen us working closely with landowners to limit the impact of these schemes on their farm holdings. Through discussions with the affected farmers and engineers it has been possible to maintain operational farm units through the provision of appropriate mitigation and influencing the detailed design.
Take a look at our Specialist Soil and Ecosystem Services and Natural Capital pages.
Our long-term experience of working on these projects ensures that RAC is a market leader in assessing the impact of projects on agricultural businesses, agricultural land and soils, and of agricultural developments on the environment.
In addition to providing specialist input to EIAs for non-agricultural development, we also prepare EIA reports for agricultural development covered by the regulations, including:
Intensive pig and poultry units
Large indoor dairy units
Large slurry lagoons
Conversion of unimproved or semi-natural grasslands to a more intensive use
Are you interested in this service?
Contact one our experienced specialists to further discuss your needs.