Change of Use at Usk Natural Burial Ground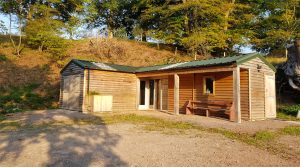 In April 2021, Ieuan was instructed by Usk Natural Burial Ground, on the Usk Castle Estate, to prepare a planning application for the partial change of use of an existing timber barn from its approved use as a wake room to a mixed wake room and chapel of rest.
Usk Natural Burial Ground has been established for over fifteen years and offers people the opportunity to choose an environmentally sustainable burial. The burial site is grazed by sheep during the winter months and is sensitively managed through the summer to ensure the site is sustainable and biodiverse.
The applicant had seen a significant increase in people choosing 'family-led' funerals, allowing the family to arrange their own ceremonies without Funeral Directors. In these cases, the deceased person often remains in the care of the hospital until the funeral when they will be collected by their next of kin or other family member and taken to their place of burial. For administrative reasons this usually must take place at least the day before the funeral.
The proposed part conversion of the existing wake building at Usk Natural Burial Ground to provide a chapel of rest facility will enable the burial ground to offer a vital service for relatives, providing families with a safe, peaceful place to bring the deceased.
Although there was no specific national or local policy relevant to the partial change of use of the existing wake building, RAC considered elements of Planning Policy Wales (Edition 11) were relevant to the proposals in that the document is supportive of promoting a strong rural economy and their contribution to the sustainability and viability of the rural community.
The application was well-received by Monmouthshire County Council and was permitted on 3 August, four months after submission.