Cooling pig slurry to reduce gaseous emissions
Wednesday 10th July 2019 in Farm Research & Development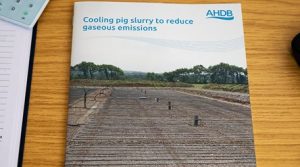 Peter Danks has worked with AHDB Pork to produce a report introducing the use of slurry cooling and associated heat recovery in the reduction of ammonia emissions from stored pig slurry.
When combined with the heating of pig accommodation on a fully integrated farm, the use of slurry cooling to reduce emissions offers an attractive option for consideration when expanding a unit, meeting compliance targets and reducing energy costs.
Cooling reduces ammonia emissions and energy used for ventilation, while heating with renewables reduces heating costs and attracts the Government's Renewable Heat Incentive (RHI).