Up to 1,000m2 Agricultural Buildings now Permitted Development
Friday 25th May 2018 in Planning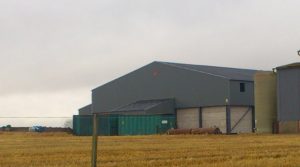 By RAC Director Alex Lawrence
Recent changes to The General Permitted Development Order (GPDO) (England) have increased the maximum floor area of agricultural buildings which can be erected as Permitted Development, from 465m2 to 1,0002 on agricultural units of five hectares or more. The amendment also allows for buildings on units of less than 5ha to be extended by up to 20%, to a maximum of 1,000m2.
As before, there are a number of restrictions which apply to any proposed building in terms of its design, use and location. Any proposed development will still have to go through the 28-day Prior Notification procedure with the local planning authority, where it is necessary to provide justification that the new building is "… reasonably necessary for the purposes of agriculture within that unit". A test which many developments proposed under permitted development rights fail.
This test is likely to become increasingly difficult with larger buildings as it becomes necessary to justify the use of every square metre of floorspace. Furthermore, as the size of building increases it is more likely that local planning authorities will require 'prior approval' relating to the "… siting, design and external appearance of the building." If the planning authority consider that prior approval is required, a further 28-day determination process commences, at the end of which approval for the building may not be granted. This is a decision which can be appealed.
Despite this, the prior notification procedure is less onerous than a planning application, and normally much quicker. An additional benefit is that there is a substantial reduction in planning fees. A 1,000m2 building would incur a planning fee of £3,696, whereas a prior notification for an agricultural building has a flat fee of £96.