Mineral Products Association – Quarries & Nature 2017: Appreciating Assets
Tuesday 24th October 2017 in EIA & Soils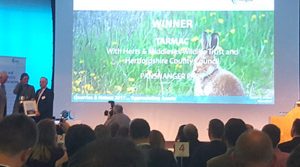 Last week RAC Director Alastair Field was invited as a guest of established RAC client, Ingrebourne Valley Ltd to attend the Mineral Products Association's 46th Quarries and Nature – Appreciating Assets event, incorporating the MPA Restoration and Biodiversity awards at The Royal Society, London.
Held in association with Natural England to recognise the minerals industry's contribution and commitment to improving biodiversity and conservation, the event showcased the best examples of quarry site restoration and wildlife conservation in the UK. Working alongside the British Aggregates Association, the 10th anniversary of partnership programme Nature After Minerals was also celebrated.
RAC has a long and successful history of working together with the minerals industry, farmers, and landowners to provide the best restoration and habitat creation schemes for mineral extraction sites that have reached the end of their cycle, as well as providing day-to-day technical advice for the management of soils, nutrients, crops and other resources.